FEEDING THE PLANET USING HERITAGE SEED AND TRADITIONAL WISDOM
I envision a global food system that respects the value of landrace seed and traditional knowledge as key components for food security.
In 1997 Mrs. Gretchen Bauta's funding support allowed me to formally create the Heritage Wheat Project. The Project has always been much bigger than the small plots of heritage wheats I grew at the University of Alberta until 1999 and later using 'particpatory research' on various farm sites. It includes the pionnering work done by Dr. Hans Larsson in Sweden and Dr. Kostas Koutis from Greece who have been my mentors and teachers with heritage wheat.
The Heritage Wheat Project has brought old wheats out of obscurity, the old wheats discarded by breeders in favor of the new and improved hybrid varieties. Old varieties and species of grain that challenge conventional taxonomy between wheat and barley and have helped bring the idea of 'terroir' to bread and wheat. 'Red Fife' that is grown and baked around the world celebrating it's unknown pedigree, and now Zea wheat in Greece linking the strength of humanity to old grain.
Planting and observing heritage wheat for 25 years has challenged most of the conventional agronomy I learned in university. I feel that I am still in the creative and amazing preschool of Life.
I encourage you to start doing some experiments in your garden or field.
FREE BOOK! Want to do 'on farm research' - download the 'how to manual' by Sharon Rempel
In 1989 I came up with the idea, and named the event, that brought community seed savers, academics, researchers and agronomists together to share seed and story.
Our first Seedy Saturday event was held in Vancouver at the VanDusen Botanical gardens. My hope was that the varieties people had grown in their local gardens could become stable reliable quality lines of seed for the local market gardeners and be sold through local seed companies.
I did not patent or trade mark the event. No organization 'owns' the event and each community takes the idea and creates their version of Seedy Sunday or Saturday.
Seeds of Diversity Canada lists some of the annual Canadian events but the organization was not a funding or founding member of the first event. Credit for helping create and be the godparents of the first Seedy Saturday goes to Mary Lindsay; Cathrine Gabriel and HANS; Roy Forster and Dan Jason, and a volunteer named Alan.
Today, twenty years later, most if not all organic market gardeners buy their seed from commercial seed houses who buy their seed from the US, China or other countries.
My intention at Seedy Saturday was to bring out the heritage varities of food crops, to have plant breeders and agronomists (we had some in the late 1980s, few survive now regionally and provincially) work with the people in communities to develop high quality stable lines of open pollinated varieties of food crops that could be used by market gardeners in that region and be sold as stable quality seed lines by local seed companies.
This was to provide a living 'seed bank' in each community as well as encourage the sale of open pollinated, heritage varieties, not hybrids.
Sustainable regional food security is not happening in Canada, despite the good intentions of small scale organic growers who sell into the farmers markets and the various Seedy Saturday events that promote gardening, seed saving, cooking, root cellars and horticulture.
Much of the local food movement (and local DOES NOT imply organically grown as it did in the 1980s) focus is on tomatoes and high priced greens.
Grains, legumes and potatoes are food security crops and the field trialing, bulking up, storage areas and quantities of heritage varieties are not in any community collections in Canada.
Thus the 'value' of the heart of the Heritage Wheat Project, food security varieties that adapt quickly to new growing conditions.
We are not a society that values the wisdom of older women, and it is mainly women who have led the organic and seed movements in Canada and globally. At the end of the day it's not the economists who will feed us but the women who put the food on the table in households around the world.
********
BABA YAGA ... feminine wisdom for elders in Canada and around the world
Inspired by the CBC documentary about BABA YAGA Housing for aging feminists and activists in France, I wrote to the CBC about my personal interest, as an aging activist, in finding land where I could live in a community, ideally in my own tiny house and be able to grow gardens and edible landscape. I'm happy sharing a car, a community kitchen, laundry and other resources.
I just don't have the millions that retirement will cost me to be a senior in comfort, without a pension plan and steady retirement fund income paying me $50,000/year.
I mentioned in my email to CBC about being interested in connecting to others who might have interest in this idea coop/cohousing living on the land idea with a community of other aging activists and when my letter was read in conjunction with the Baba Yaga story, the two seemed to merge.
I received alot of emails. Then I realized I could help people connect to each other with a website and contact list.
Some women are willing to act as regional contacts to help groups and hopefully a network will form coast to coast.
I'm not the 'leader' of any new group, nor am I maintaining a resource list and connecting people one on one but I have put up a website that can connect people.
Please visit www.babahousing.ca
ACTION: I encourage people to contact their MP and MLA and get 'social housing for lower income people' on the politcial agendas locally, regionally, provincially and federally. Community discussions and networks will help create the change that is needed.
*******
NEW ARTICLE: Heritage Varieties…the Luke Skywalkers in the Agriculture world
My teachers for the past thirty years have been plants – heritage wheats to be specific. The wisdom in the old varieties are rooted in cultures where people, plants and place interacted in an environment and co-evolved together through time. Seed is the foundation of food production. And heritage varieties that haven't been hybridized have the ability to adapt quickly to changes in the growing environment.
As a woman agronomist working in grassroots organic agriculture I have not found role models to use as a foundation for developing my thoughts and actions. I have had to define these for myself.
I have had to invent a wheel. I found the grassroots philosophy for a social theory appropriate to the needs of today alive in the wisdom of the ways before the patriarchy. The old ways of balance and co creation are a prerequisite for the formation of the kind of abstract thought we need to conceptualize to create a society where differences do not imply dominance of one sex/species/variety/society/nation/philosophy over another.
The patriarchal system works with heirachial dominance. It has no ability to nurture or respect other values. It has survived because it has systematically silenced other voices.
Women from all classes are invisible as 'people' in societies around the world. Feminine values of cooperation, collaboration, nurturing and respect for Life are suppressed and repressed around the world.
People of different races, religious beliefs and of lower income status from the dominant few, and those defined as 'odd' are discouraged, ridiculed or silenced.
"Peer reviewed" publications have restricted the sharing of information about alternative ways of thinking and 'science' has tried to define and patent all forms of life. Fortunately 'life' has a regenerative force and ability to change and adapt, and this challenges the attempts to 'control' life.
This is obvious in agriculture. Genetic and taxonomic divisions are an attempt to define, control and patent all types of life forms. Hybridization has attempted to restrict a life form from finding its own path of adaptation.
But the old varieties, the 'folk' and 'landrace' materials are dynamic and alive and regretably in very small quantities in Canada but they are around the planet.
They are the 'Luke Skywalkers' in the agriculture world. Imagine the ending of a movie when the 'side of the light' holds a packet of heritage wheat and the 'dark side' is holding a hybridized variety.
The centuries old 'battle' continues with the geneticists, as they are known today, and the possibilities of what's now called epigentics. However, with an honoring of the wisdom of the epigentic world and honoring of Life we could find answers to surviving in peace and harmony on the planet.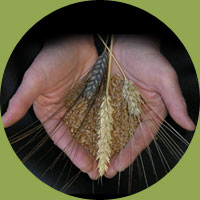 "The hand that holds the seed controls the food supply. May seed always be in the hands of gardeners and farmers who will save and share this wealth."
- Sharon Rempel