Sharon Rempel is an agronomist (scientist working in agriculture) with 25 years expertise in organic agriculture and heritage seed conservation. She's a networker and mentor and a 'bridge' to bring together people, plant and place.
In 1990 Sharon started an event called Seedy Saturday. It brought together small scale seed savers, plant scientists, living history sites and organizations working for conservation of traditional knowledge and heritage seed. The Swap Table allowed people to share their stories and their family seeds. Speakers shared information about political aspects about seed privitization. Seedy Saturday was created to help keep seed in the hands of people and Sharon's hope was communities would build community seed banks and also develop quality 'lines' or varieties adapted to the local bioregion. This would be the heart of local food security, the seed banks.
In the mid 1980s Sharon worked at The Grist Mill at Keremeos Historic site. She designed special event programs to bring visitors in touch with agriculture. This pioneering of 'agritourism' was one of the first in B.C.
Sharon designed and planted heritage gardens and taught people about old varieties of plants.
She also created B.C.'s first Fall Apple Day, a heritage orchard, a Living Museum of Wheat and is credited with finding obscure seeds of the Zucca Melon.
Red Fife wheat was one of the old wheats in the Living Museum of Wheat.
Sharon spoke often on the CBC radio about the need to conserve agricultural biodiversity.
In the 1990s she served on 3 UN delegations, as an NGO representative for Canada, when the world was ratifying the Global Plan of Action, now the International Treaty, for the conservation of genetic resources for food and agriculture.

In 2007 Sharon created Canada's first Bread and Wheat Festival to bring people together to taste and define 'terroir' in bread. She has worked in Canada, the US and Greece to bring variety and farmer identification to local and organic foods.
The Festival was a birthday party for Red Fife heritage wheat, a variety Sharon recommercialized by creating the story and value chains for the grain.
Sharon's a writer, researcher and project manager (12 years NGO charity grant writing and project management expertise).
Sharon is a consultant who's 'outstanding in the field' of conservation.
She helps people create 'value chains' to link seed, to landscape (for the 'terroir) to the producers (farmers) to the processors and eventually the consumers.
FREE BOOK! Want to do 'on farm research' - download the 'how to manual' by Sharon Rempel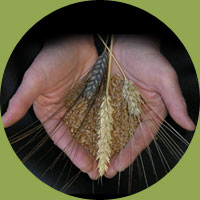 "The hand that holds the seed controls the food supply. May seed always be in the hands of gardeners and farmers who will save and share this wealth."
- Sharon Rempel